In the first part of our series, we emphasized the importance of task management systems in any hotel's technology stack. To accomplish this goal, we evaluated the strengths and weaknesses of several popular TMS solutions for hotels in Asia Pacific.
In this continuation of the series, we will examine another four TMS solutions vis-a-vis Aiello TMS, including FCS, HandiGo, Hub OS, and Xenia. By again detailing the potential strengths and weaknesses of each solution for hotels, we aim to help businesses make the most informed decision possible. An enterprise's choice of TMS, after all, is crucial: It will shape their operations, digitalization, and most importantly, guest services. The right TMS will augment these areas, so that they become competitive advantages for the business.
Hub OS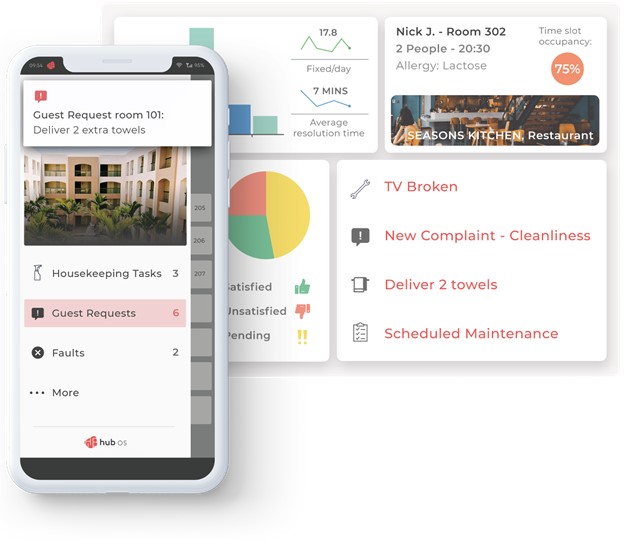 Strengths
Used by over 700 hotels across 30 markets, Hub OS streamlines hotel operations across housekeeping, maintenance, food and beverage, and more. Hub OS accomplishes this through what it calls its Hub Cycle, an all-in-one operational solution that centralizes tasks. This centralization enables hotels powered with Hub OS to reduce response times and service guests quicker.
On the management side, Hub OS provides leaders with a big picture view of the organization's data, such as the hotel's capital expenditure management, track employee productivity with KPIs, and generate real-time or regularly scheduled reports. Guest complaints are also funneled into Hub OS, and hotels are encouraged to use this as a feedback loop to continually improve their services.
Weaknesses
While recognized as a versatile platform for hotel operations, most feedback on Hub OS has centered around the user experience. "I would particularly give the option of being able to make short videos since sometimes it is better than a photo," said one user of Hub OS's multimedia options. Other users suggested the need for improvements in web design, so that it allows for more customization to suit the hotel's branding. To enhance usability, other users have called for more types of user roles, such as separate categories for general users and waiters, which may have more specific needs relating to food and beverage.
Xenia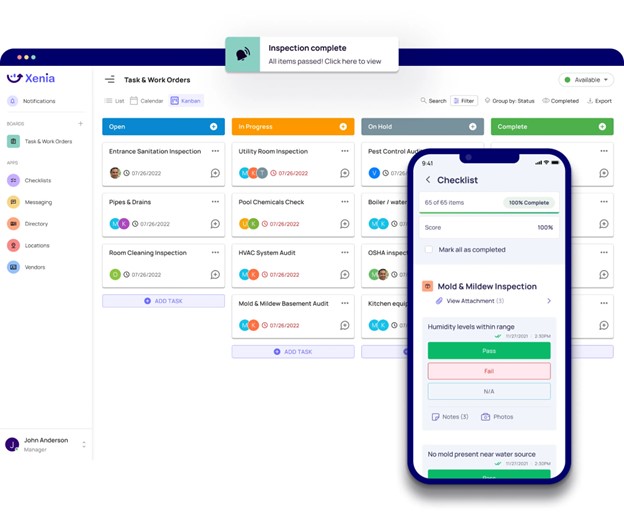 Strengths
As a task management system, Xenia offers a comprehensive suite of tools. Through its task management interface, managers can assign tasks and track their progress. There is also the ability to set recurring tasks through the scheduled work feature and regular check-ups through a preventive maintenance tool, so that managers save time on administrative work around general upkeep. Tasks can also be set based on priority, category, location, and other attributes, so that staff is working on the most important matter at hand.
Xenia also offers instant messaging, so employees do not need to leave the platform to communicate about tasks. Managers can also make necessary approvals, such as for requests, on Xenia, which further streamlines communication. Finally, Xenia also provides rich analytics as well as a multi-location management tool, which may be particularly useful for large hotel chains or groups.
Weaknesses
Some Xenia users have observed occasional glitches and bugs that affect productivity. "The order tracking page freezes sometimes," one user said. Though many users find Xenia's interface functional, others suggest that it could benefit from more intuitive design. Enhancing Xenia's UI/UX would minimize the learning curve for new users, allow users to find what they need more quickly, and help hotels realize time-to-value quicker. Unfortunately, there is no free version of Xenia for businesses to test out, but they can avail of a free 30-day trial for annual plans.
FCS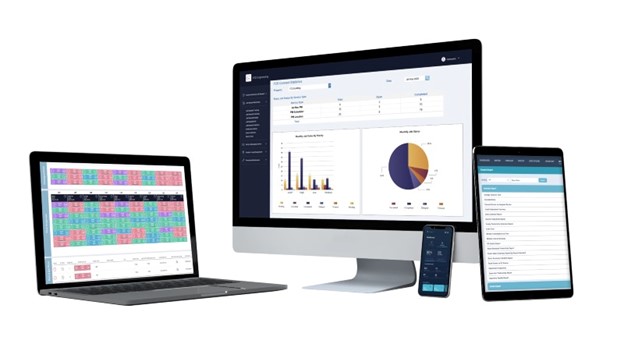 Strengths
Founded in 1982, FCS is one of the oldest brands in hospitality technology. Unlike other providers, which position their TMS as an end-to-end solution, FCS instead offers an omnibus of products. These include individual products in guest services automation, cleaning management, preventive maintenance management, and incident management.
The fact that FCS positions each of these as stand-alone products may be convenient for certain hotels. Some hotels may want to test out a single solution before committing to a wider implementation, while others may simply want only one of them permanently. How FCS structures its product portfolio is not only a matter of positioning – each product is indeed strong enough to stand on its own. Its product for task management includes the ability to dispatch employee or guest requests, track their completion, or escalate them as needed.
Weaknesses
The omnibus approach FCS takes may be a double-edged sword. Businesses will have to make the effort to decide which of the four products it needs as part of an operational suite. This could lead to internal deadlock in contrast to TMS solutions that provide all their features wholesale rather than piecemeal. If hotels do opt for only some of FCS's products, this could lead to data silos and fragmentation. Some departments would be powered with a digital solution like FCS, while others will still be stuck with the legacy approach. This could complicate communication and collaboration.
HandiGo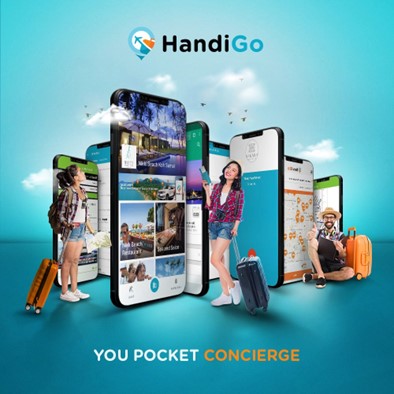 Strengths
HandiGo is decidedly more guest-facing than other TMS solutions. For starters, guests can check in with HandiGo's pre-arrival check-in and the digital e-key feature. Once on site, HandiGo offers facility interaction, which allows guests to acquaint themselves with various hotel facilities and services. Such knowledge will of course increase their usage, and in cases where these are not complementary, the hotel's revenue. Guests can also learn more about the surrounding area from HandiGo, so they enjoy not only the hotel, but their entire trip.
While HandiGo may be guest-driven, hotels can also push out notifications from the top-down to drive guests to their best offers. Hotels can also solicit guest reviews to provide social proof on their digital channels. Across its platform, HandiGo offers multi-language support as well as the ability to call or chat with staff.
Weaknesses
While HandiGo is a great value-adding amenity for guests, it may be too guest-centric to meet all the needs of hotels. Hospitality businesses, after all, have much more extensive needs beyond just providing information and services to guests. The facilities must be maintained, the operational data must be examined, and other non-guest-facing tasks must be executed. The fact that HandiGo does not cater to these back-end tasks may tip hotels too far into one direction. They may service guests well, but other key operational matters may suffer.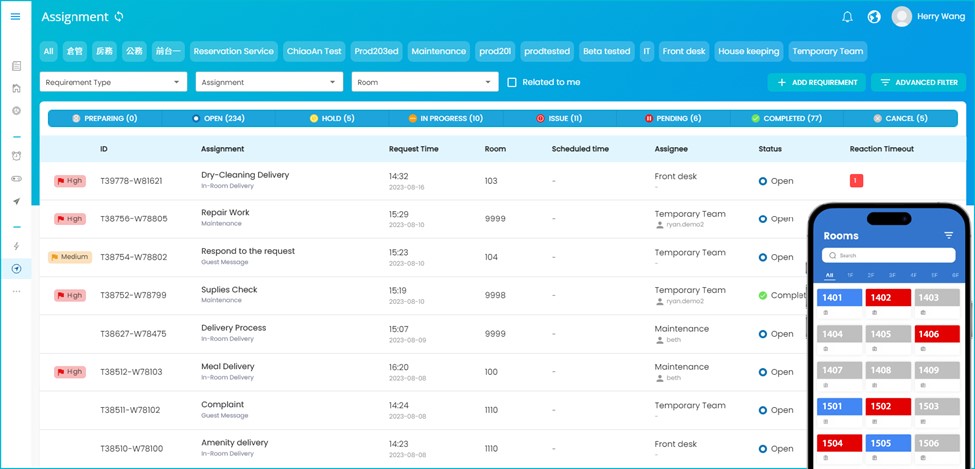 Strengths
While there are many TMS solutions, Aiello is uniquely suited to address the needs of businesses in the hospitality industry. Unlike other solutions, businesses powered with Aiello TMS will have a rapid time-to-value. Out of the gate, it is compatible with other hotel technologies, and its user interface is intuitive enough that hotel staff can pick it up and get going.
Hotels equipped with Aiello TMS increase productivity company-wide because its task management system has use cases for every department, including front of house, housekeeping, and maintenance. For their part, leaders will have access to rich data, which will enable them to make smarter, data-driven decisions about the hotel's operations.
Weaknesses
As a disruptor in the TMS space, Aiello is still new compared to legacy solutions. Because it is a more recent innovation, Aiello naturally has fewer features or modules than its older competitors. Aiello, however, is slowly adding many of these features as well as devising new features that no other TMS has. Aiello would thus be an ideal choice for businesses that want some of the standard offerings as other TMS solutions, but also gain a competitive edge in leading-edge features.

The paradox of choice
Though one would assume that TMS solutions for the hospitality industry would be a niche category, it actually has many solutions. In fact, there are so many that businesses may fall into analysis paralysis and avoid getting one altogether, or worse, blindly choose one from among the many available options.
When it comes to a TMS, choosing a merely adequate solution is not enough. Because hotels rely on a TMS for so many key functions, leaders should absolutely choose only the best one for their particular needs. From this vantage, Aiello may present a compelling choice of TMS for enterprises in Asia Pacific. Aiello TMS will help hotels streamline their operations; improve productivity through better communication, collaboration, and task management; and achieve what matters most: enhance guest satisfaction.
If your establishment is keen on exploring the potential of Aiello TMS, we invite you to contact us for a free demo.